Discover more from Enjoy By
A grocery-themed newsletter focusing on one grocery item per issue.
Over 1,000 subscribers
Issue 08: CONDENSED MILK
The sweet, syrupy evolution of evaporated milk.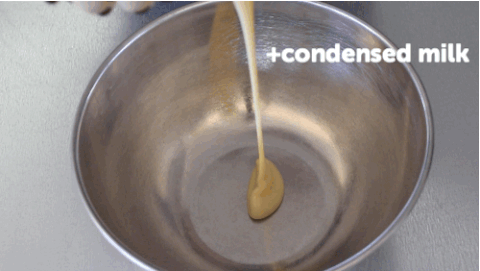 Aaaaand we're back from our hiatus! Lots of new subscribers since the last issue, I want to say welcome everybody and I am happy you're here :)
This issue we are discussing condensed milk because on my last trip to the grocery store I added a can of condensed milk to my basket as it was on sale and I thought … what am I even going to do with this?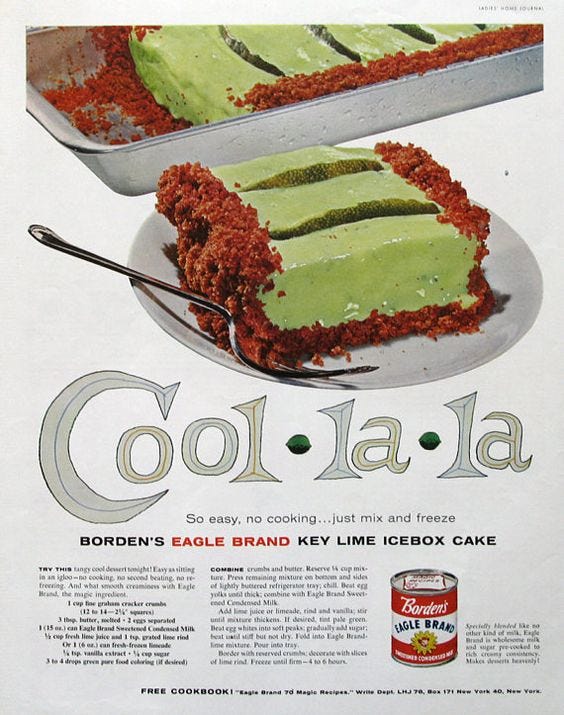 When I think of condensed milk I think of my mom's coffee: Bustelo made in a Mr. Coffee with condensed milk and cinnamon. When she does not have condensed milk in the pantry, she'll sub with evaporated milk plus sweetener. Because both evaporated milk and condensed milk are usually present in her pantry and both are canned milk I always assumed they were the same thing, or at least swappable. This is not the case!
How is condensed milk different from the milk I put in my cereal?
Before refrigeration, condensed milk was consumed primarily as a beverage. Today the very sweet syrup would not be a welcome substitution in your Lucky Charms. Condensed milk has a different chemical profile than fresh milk, it doesn't curdle in the presence of acid, making it the Key Lime pie MVP. The sugar crystals in condensed milk do not clump together or "seize" making it the fudge MVP, especially when making brigadeiros.
The terms "condensed milk" and "sweetened, condensed milk" are interchangeable. (Unsweetened condensed milk would be evaporated milk) Condensed milk is fresh milk reduced by evaporation, with sugar added.
Can you substitute evaporated milk with condensed milk?
No. Well, not really. You cannot swap them 1:1 in recipes; condensed milk is sweet and has a different texture from evaporated milk. The only way to pull off any sort of hack would be to combine evaporated milk with additional sugar in a recipe calling for condensed milk. To do so: Mix one measure of evaporated milk with one and a quarter measures of sugar in a saucepan, heating and stirring until sugar is dissolved. Let cool.
Why does condensed milk exist?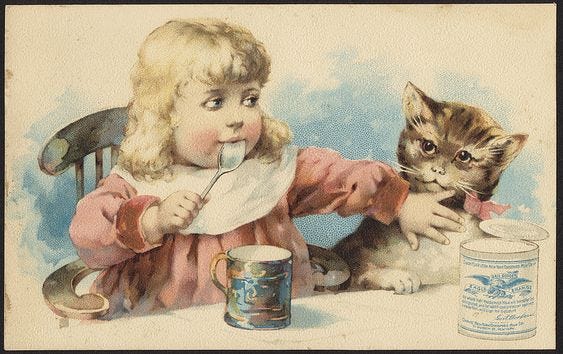 So before refrigeration, milk was really shady. It spoiled quickly, was a carrier of disease, and dairy men would dilute swill milk with water, chalk, plaster, flour and other not-welcome substances to make it look like real milk. In 1856 Gail Borden patented his "canned milk" which was self stable and sterile.
According to Chowhound: To make condensed milk, fresh milk is clarified (heated to a controlled temperature) for a period of time, killing bacteria and unwanted organisms that grow naturally in milk. Any excess water within the milk is also removed during this process, leaving behind only the concentrated milk product.
The addition of lots of sugar separates condensed milk from plain ol' evaporated milk. Borden also was known for his "Dairyman's Ten Commandments", a set of sanitary requirements for farmers who wanted to sell him fresh milk. Condensed milk was ordered as a ration for the Union Army and soldiers spread the word when they got home, making it very popular by the end of the 19th century. It got another revival during the First World War.
Today condensed milk isn't really reserved for drinking but instead mostly used for baking and confectionary, including treats like "cotton cake" which is kinda like cloud bread.
PURCHASING
Condensed milk is typically found in the baking aisle of the grocery store and usually right next to the evaporated milk, so look at your labels carefully! Do not purchase any cans that are swollen as this is most likely because of the gasses being released from spoiled milk building up in the can. Dented cans are also to be avoided as that is a botulism red flag and literally no one needs that ever but especially not in 2020.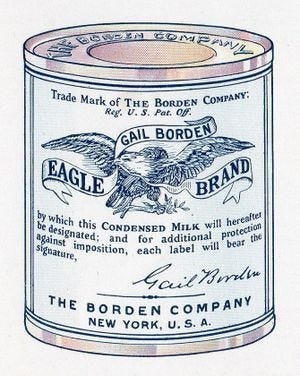 PREPARATION
Once the weather drops and hot coffee becomes a part of my life again, I am definitely going to be using condensed milk in my coffee like my mom does :) In the meantime, if anyone can suggest their favorite Vietnamese iced coffee in NYC I would love an excuse for an excursion! Until then, I am thinking about drizzling condensed milk over some fresh, in-season fruit from the farmer's market.
If you are feeling a bit more adventurous The Kitchn suggests making rolled ice cream, which honestly looks really easy and appealing after this stretch of humidity in Brooklyn this week:
Make rolled ice cream. One of the main ingredients in rolled ice cream is sweetened condensed milk. You just combine it with heavy cream and a pinch of salt to create the base, throw in whatever add-ins you have on hand, pour it onto a sheet pan, and freeze it. Once solid, use a bench scraper to roll cylinders and serve it immediately.
In 2015 Bon Appetit suggested, "add a tablespoon or two to a marinade for pork or chicken, just as you would sugar" but like are they cancelled or…?
Food52 says, "Substitute half of the milk needed in baking cornbread with condensed milk for an added subtle sweetness" which sounds DELIGHTFUL and has made a place for itself on my to-bake list.
And if you *really* wanna go for it, you can make homemade dulce de leche by boiling your can of condensed milk for a few hours. Really! But it can go horribly wrong very easily if you do not take the proper precautions and watch the water level. Serious Eats has explicit instructions.
The Bare Pantry Show shows you how to boil the can on the stove top, in a slow cooker, and in a pressure cooker!
And in this video, Simply Mamá bakes her condensed milk instead of boiling the can:
STORAGE
Refrigerate after storage. In the very possible event that you do not use an entire can of condensed milk in one sitting, cover the can in some sort of airtight situation, which can look as basic as some plastic wrap secured with a rubber band. If left uncovered, the condensed milk will gain some unwanted flavors from your fridge. Due to the high sugar content in condensed milk, it is pretty stable. Definitely start giving it smell checks a week after opening. Milk solids may settle towards the bottom of the can.
REMEMBER: "ENJOY BY", "BEST BY", "BEST BEFORE", "BEST WHEN/IF USED BY", ARE NOT SAFETY DATES! These dates are issued by the manufacturer, estimating how long the condensed milk will remain at "peak quality". THE BEST WAY TO DISCERN QUALITY IS THE SMELL TEST!
---
TL;DR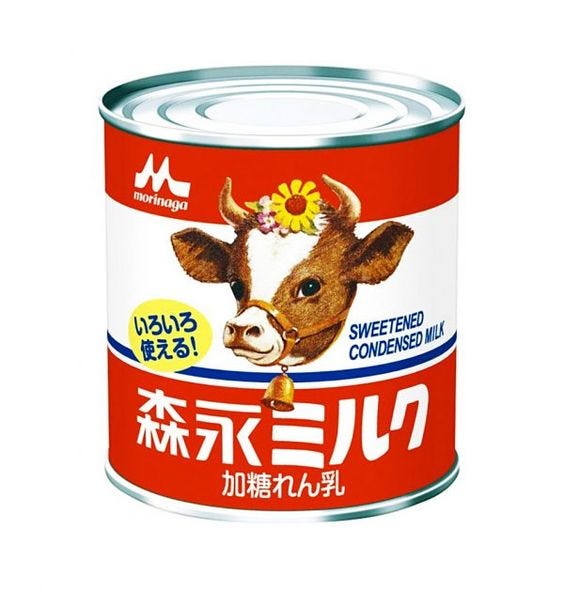 Condensed milk is evaporated milk with a bunch of sugar added. Comes in a can, has a syrupy texture. Popular in baking and coffee. Cannot be swapped with evaporated milk. Boil the can to create your own dulce de leche.
---
GROCERY-RELATED INTERNET
The freshest picked news from the world wide web
---
Thanks for reading! For any and all questions, comments, concerns, or topic suggestions please reach out! enjoyby@maggiemcglinchy.com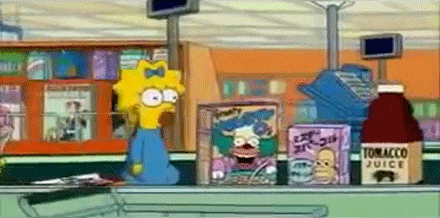 ---
If you enjoyed this newsletter, it would mean the world to me if you shared it!