Issue 03: FROZEN BLUEBERRIES
Yes, you want the "wild" blueberries.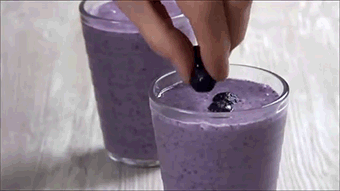 I don't have much business in the frozen section. If I find myself there it is usually for ice cream. Since having access to my roommate's Vitamix however, smoothies have become a part of my life and as a result I am spending more time in the frozen aisle.
Until recently I thought smoothies were largely a scam, nothing but a sugar bomb of both natural fruit sugars and added refined sugars, unless you were drinking truly "healthy" smoothies, and I decided I could spend $9 in other, more appetizing ways. While that train of thought isn't entirely false, my fruit write-off was incorrect.
Berries have four times more antioxidant activity than the majority of other fruits and ten times more than most vegetables. Anthocyanins are the most beneficial phytonutrients in blueberries.* There is no conclusive evidence that anthocyanins have any effect on human biology or diseases but there are a lot of positive studies that suggest they can protect against brain aging and promote vision health.
What's even better news? Cooked blueberries are better for you than raw blueberries, as they have greater antioxidant levels than fresh berries. The heat rearranges the structure of the phytonutrients, making them more bioavailable.* Is that not the best news you've heard in weeks? That the blueberries in blueberry pie are better for you than already-amazing fresh blueberries? This was thrilling for me.
Frozen blueberries are excellent for both smoothies and baking, as well as being a great topper for oatmeal or yogurt. According the the U.S. Highbush Blueberry Council (lol) when it comes to cooking with blueberries, you can almost always replace fresh with frozen. But the best part about frozen blueberries? They allow you to enjoy a ripe blueberry any day of the year, not just in the summertime. Technology!
To reach the ultimate nutritional blueberry zenith, buy "wild" blueberries. Because they have avoided domestication, they have held on to more nutrients that may have otherwise been bred out, like their commercial berry cousins. Wild blueberries are usually a bit smaller in size, which means they have more skin and therefore are more nutritionally dense.
PURCHASING
You want to purchase "flash-frozen" blueberries or IQF, individually quick frozen, for the most nutrient-dense blueberries. When the berries are quickly frozen, enzymes that destroy the berries' phytonutrients and vitamin C are slowed down. The best option is IQF wild blueberries.
If you want to make those height-of-the-season blueberries last, freezing blueberries is a great way to eat ripe fruit year-round. Prices will be lowest during peak season, making bulk buying and freezing an economical choice. (If you choose to freeze fresh blueberries, seek out the Rubel blueberry. It has the highest antioxidant value and the second highest anthocyanin content and can be found at farmers markets or U-pick berry farms. We will discuss how to freeze your own blueberries in the STORAGE section)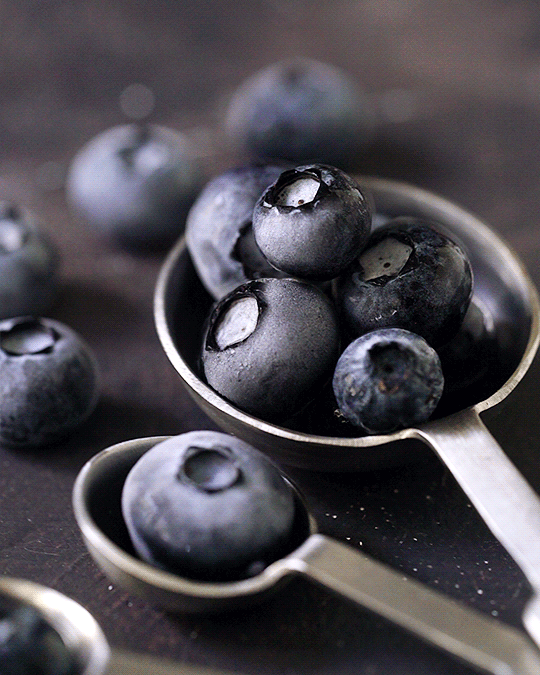 PREPARATION
As far as my smoothie habit goes, I follow the Smoo Crew ethos of just throwing some stuff in the Vitamix and going for it, not worrying about measuring ingredients. It usually looks like an individual Chobani yogurt, a banana or an orange (usually one hand fruit), some frozen berries, date syrup or honey, camu powder (or another vitamin C powder) and oat milk. Then I drink it out of a glass mason jar with a metal straw to feel #basic! If you are more of a recipe follower, take a look at these guys.
What's beautiful about frozen blueberries in baking is that keeping them frozen is actually beneficial: Frozen blueberries aren't as easily smushed, so your batter doesn't turn purple, and the blueberries thaw as they bake, cutting down on prep time! Regarding pie-baking specifically, Bon Appetit says frozen blueberries are the only frozen fruit they recommend for pies. Twist my arm!
Per my sister's recommendation, I recently purchased and read "Eating on the Wild Side" by Jo Robinson which was fascinating and an incredible reference. One of my favorite lessons was that foods should not only be flash-frozen but flash-thawed as well. Per Robinson:
Thawing the fruit in the microwave is the best way to do this. Intuitively, one would think that microwaving frozen berries would destroy their nutrients, but the opposite is true. In fact, berries thawed in the microwave retain twice as many antioxidants as berries that thaw at room temperature or in the refrigerator. The thawing happens so rapidly that the nutrient-destroying enzymes have little time to work.
Is that not amazing?! Also my first time reading positive publicity for microwaves in … ages? So, if you decide you need to heat up those berries, nuke 'em.
Back at it again with the Dutch baby pancake 🥞 🤤 this time I added frozen blueberries that I melted in the microwave first! What would you top this with? Comment below! ⬇️
STORAGE
If you thaw your blueberries, cover, refrigerate and use them within three days. Store in the crisper drawer to keep them cool and moist.
If you are choosing to DIY your frozen berries:
Do not wash your blueberries right under the faucet! The water pressure can squish the blueberries and excess water droplets that remain in the package after washing can cause berries to get soggy. If you want to go even *further* and really ensure your bluebs are clean, you can dip them in a 3:1 water to vinegar mix, distilled white or ACV recommended. Do not soak! Unless you want some vinegar-y blueberries, but I am confident you do not.
Fill a large bowl with cold water, then gently place the berries in a colander and dip it in the water bath. Gently swish the colander and drain, repeating if you have done the vinegar dip. Carefully pat berries dry. Dust your blueberries with granulated or powdered sugar, vitamin C powder, pectin powder, or any combination of the three, to slow the rate of oxidation and preserve more of their nutrients.*
Freeze berries in a single flat layer on a baking sheet until solid or up to a couple of days. (The berries freeze quickly when spread out on a tray, preserving more of their phytonutrients.*) Once frozen solid, transfer to a freezer bag or container, leaving a little room at the top for berry expansion. You can also freeze them directly in a freezer bag, just make sure they are in a flat, single layer. We don't want clumping! If you're really savvy, you will freeze your blueberries in premeasured amounts and label and date them. When you need berries for a recipe, you will know how many you have available! *wink*
These bad boys should last for about 6 months in your freezer.
REMEMBER: "ENJOY BY", "BEST BY", "BEST BEFORE", "BEST WHEN/IF USED BY", ARE NOT SAFETY DATES! These dates are issued by the manufacturer, estimating how long the blueberries will remain at "peak quality". THE BEST WAY TO DISCERN QUALITY IS THE SMELL TEST!
*These stats are from Jo Robinson's "

Eating on the Wild Side

", a great book for reference that I use regularly!
---
TL;DR
Blueberries are nutritionally dense, especially if they are "wild" blueberries. Frozen blueberries can almost always be substituted for fresh blueberries and are almost as nutritious. Cooked blueberries have the highest antioxidant levels.
---
GROCERY-RELATED INTERNET
The freshest picked news from the world wide web
---
Thanks for reading! For any and all questions, comments, concerns, or topic suggestions please reach out! enjoyby@maggiemcglinchy.com